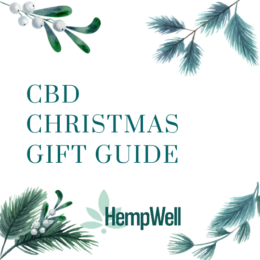 This year, people want wellness gifts for Christmas. Health worries are at an all-time high and the time is now to show someone you care about their wellbeing!
We've pulled together our Ultimate CBD Christmas Gift Guide to help you get your Christmas shopping sorted quickly and easily.
To make your life easy we have put together some Christmas Hampers to help make your Christmas shopping a breeze. We've a beginners bundle, two hampers for a luxurious evening in and one for those sporty types.
With discounts off the RRP and FREE gift packaging included, we are making these the best value CBD Christmas Gifts this year!
Our CBD Massage Oils have been a surprise bestseller since we launched last month, but we can see why! Give the gift of a soothing massage with the power of CBD and essential oils – we cannot think of a more relaxing combination. Available in 500mg and 1000mg strengths. Our max strength massage oil is perfect for sports massage!
Of course for Christmas we had to develop our own seasonal CBD Candle. Evoking memories of Christingle Wreaths and mulled wine we have pulled together the distinctive fragrances of oranges, cinnamon and fir trees for an undeniably festive scent. Each candle fills the room with delicious fragrance while releasing our organic CBD into the air. If Christmas wreaths aren't your thing, we have five other relaxing fragrances designed to complement the soothing powers of natural CBD.
Imagine a delicious, indulgent, velvety chocolate truffle with the power to relieve pain, reduce anxiety and restore mood. Each of our handmade artisanal chocolate truffles contain only the highest quality fresh ingredients alongside 20mg of CBD in each one.
Luxury skincare with the added benefits of CBD.
Our four exclusive bath bomb fragrances have been designed to create a relaxing bathtime experience, packed with natural origin ingredients and 100mg CBD to give an incredible aromatherapy experience. Perfect gift for anyone who needs to relax this Christmas.
Our products are all about wellness, this extends to our customer service experience too. If there's anything we can do to help you with your Christmas shopping this year, please do not hesitate to pop a message in the Web Chat or give us a call.
Happy Christmas from the full team here at HempWell!