Best CBD products to start your journey
If you're new to CBD, it can be tricky to know where to start. Don't worry however – we have lots of experience and knowledge about CBD and can help you find the right product, whether its a CBD pain cream or CBD oil, or something entirely different!
Below you'll find some super useful tips for starting your CBD journey, as well as some products we recommend as the best CBD products to start with. If you have any questions or queries there is always someone to talk to, so please give us a call or join our Facebook support group for help.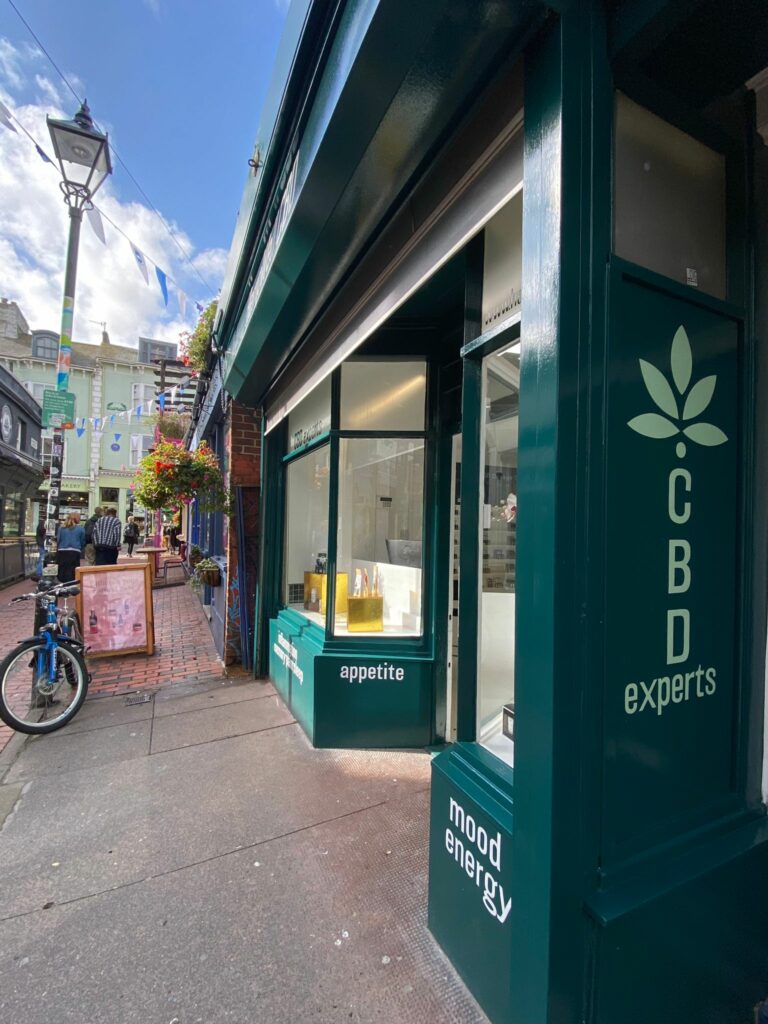 What CBD product is right for me?
In most cases, CBD oil would be the go-to product, particularly at the start of your journey where you are trying to find the perfect dosage.
CBD oils are great for a number of reasons. They have a higher bioavailability, meaning more of the CBD you take actually enters the bloodstream. They're super versatile and suited for a range of concerns.
CBD oil is taken sublingually (under the tongue). Simply fill the pipette to the desired quantity and deposit under the tongue. Leave it for around 1 minute and most of the oil should be absorbed, simply swallow (or wash back with a drink!) the remainder.
Here at HempWell, all of our CBD oils use graduated pipettes. This means you can measure exactly how much CBD you are taking. Other companies may recommend "x amount of drops" but this can be subjective and confusing. Bottles of our CBD oil will tell you how many mg per 1ml, which is a full pipette, so you can easily control dosage and ensure you start your CBD journey right.
If using CBD oil is unfamiliar or you tried it and didn't enjoy the sublingual method – why not consider adding CBD oil to a drink, or using our CBD capsules instead?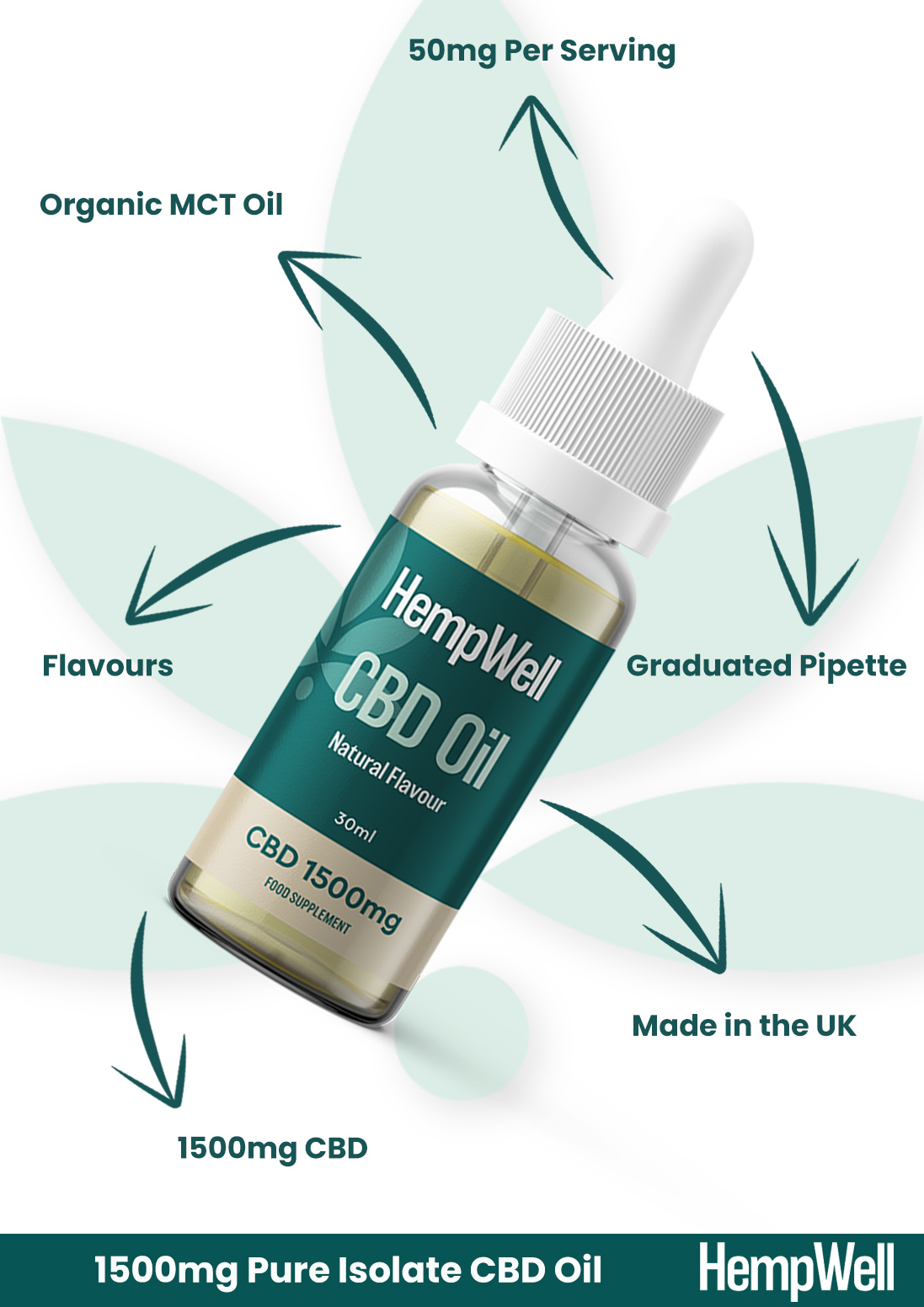 How much CBD should I take?
Dosage is the trickiest part when it comes to CBD, luckily we have a comprehensive CBD dosage guide to help you.
By using a CBD oil, you'll have more control over how much CBD you take. However, there are many great ways to control your dosage. For instance, our CBD capsules have an exact dosage of CBD in each, making it super easy to take a consistent amount.
You could also try our CBD tablets or delicious vegan CBD gummies!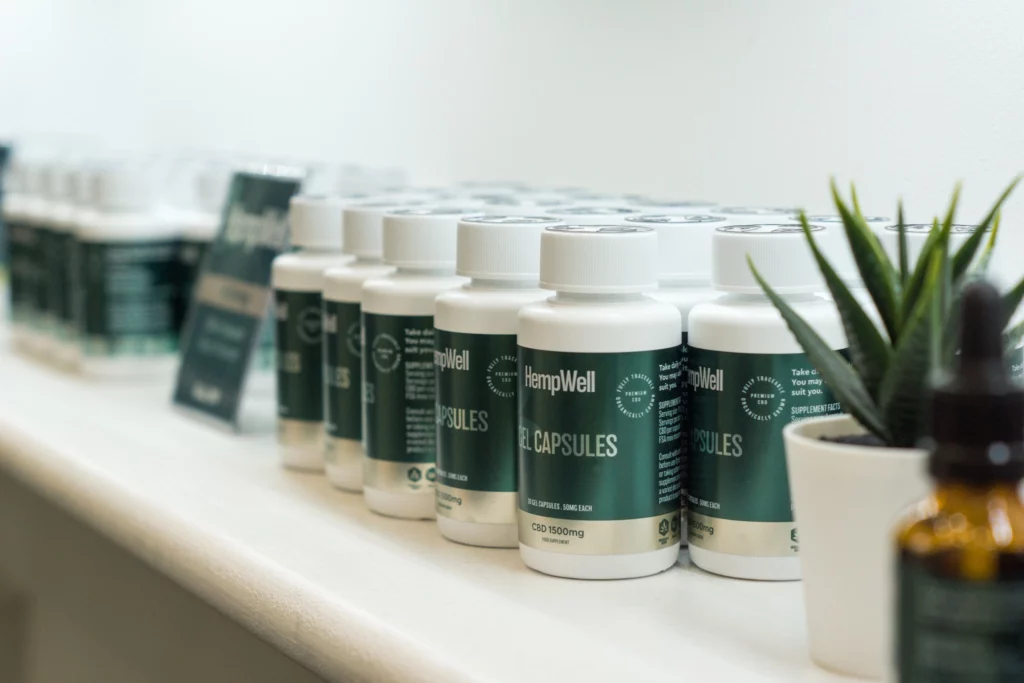 CBD for stress, anxiety or pain
The best product if you're new to CBD is probably a CBD oil. While there is a range of strengths available, we recommend starting with a medium strength oil like the 1500mg CBD oil.
Each full dropper, 1ml, will have 50mg of CBD. This is a nice medium dose to work with. For the first week you could take half as much, increasing the dosage as you see fit.
Within your order you'll find one of our leaflets, with a CBD diary on the back. At the start of your journey, it is good practice to record how much you took and what the results are. Each bottle contains 30ml, so it should last you around a month – longer if you are taking less at the beginning as you "step up" your dosage.
When you find the perfect daily dosage for you, we can advise you on which product to go with next and it is at this stage that many of our customers sign up for a monthly subscription.
Click or tap the product to visit the product page and learn more.
CBD for muscle and joint pain
When it comes to pain, we always recommend using a food supplement, such as CBD oil or CBD capsules, so that the CBD can enter your bloodstream. However, you can also use topical CBD products, such as creams and balms, to supplement this or as an alternative.
Our award-winning cooling muscle and joint cream is a surefire recommendation. This has been our most popular topical product for a number of years and features peppermint and eucalyptus to provide a cooling sensation as the CBD is absorbed by the skin.
CBD creams and balms are also very popular in fitness and recovery, as CBD sees increased usage in the world of professional sport. Why not check out the range for yourself?
Click or tap the product to visit the product page and learn more.
Designed for sleep
SleepWell is a product to help induce calm and sleep. Each 1ml serving contains 66mg CBD. This CBD oil also features herbal infusions such as valerian and lavender and is wonderfully flavored with orange blossom. We advise taking your dosage 15-20 minutes before bed.
This product is recommended for those who are looking for a solution to low quality, restless sleep or insomnia.
Click or tap the product to visit the product page and learn more.
Make dosage easy with CBD capsules
CBD capsules are a great way to make your CBD journey super easy. The 50mg CBD capsules are the most popular product on our monthly subscription offer for good reason.
Each gel capsule is filled with our very own seed-to-shelf CBD oil. It could be recommended to start with a bottle of our 25mg CBD capsules (30 caps per bottle for a total of 750mg CBD).
Take 1 a day for the first week and then increase this to 2 a day if you feel the need. If 2 a day is right for you, you'll know to purchase the 50mg CBD capsules next time!
Click or tap the product to visit the product page and learn more.

Where can I get CBD advice and support?
Our CBD experts are always happy to share our knowledge of CBD with you – it's why we created our wonderful HempWell CBD shops! You can reach a member of the team by using the chat box in the bottom right, visit us in-store, or you can contact us directly or call us on 0800 772 0508 with any queries you may have.
For the CBD curious, we have created a safe and inclusive space where individuals can come together to find support, share experiences, and explore the world of CBD for wellness. Check out our CBD Community Support Group on Facebook.