HempWell Online UK CBD Shop
Here you can browse through all our wonderful CBD shop by category or you can see ALL of our CBD products by scrolling down the page. With HempWell, you can buy CBD products with peace of mind – we offer tracked delivery across the UK and overseas. Happy shopping and if you have any questions or queries please contact us.

20% DISCOUNT
Get your favourite CBD product delivered every month when you SUBSCRIBE and SAVE 20%! Manage your Subscriptions from your My Account section.
Bi-monthly subscriptions also available.
Here you can see our full range of CBD products so browse through until you find your favourite or if you have any questions please contact us, our team is here to help.
Pure CBD Oil Drops
Our Pure CBD Oil drops are made with 99% CBD isolate and MCT Oil for a quicker take up by the body. They are very smooth, with a mild hemp flavour. We have 2 additional flavours, peppermint and mixed berry.
You can see how to take CBD oil drops here including dosage information.
£

69.99

—

or subscribe and save

20%
Broad Spectrum CBD Oil Drops
Our Broad Spectrum CBD Oil drops are made with high CBD Broad Spectrum distillate. As such have a stronger hemp flavour. Added peppermint or mixed berry flavouring also available.
Buy CBD oil from the UK's favourite CBD shop and enjoy our seed-to-shelf, FSA approved CBD food supplements.
£

79.99

—

or subscribe and save

20%
CBD Capsules
Our CBD capsules are a great way to control your daily CBD dosage for maximum wellness. Available in a variety of strengths to suit your needs.
Kickstart your wellness journey today when you buy CBD capsules containing our organically grown, seed-to-shelf CBD.
CBD Tablets
We have a great selection of CBD tablets for those of you who like a simple, easy to take, daily dose of CBD. All our tablets are 10mg of CBD in a small tablet form. We have a regular CBD tablet, plus some great variations including a Sleep Aid with lavender and 5-HTP.
In our shop you'll find CBD tablets for sleep and wellness, made right here in the UK.
£

19.99

—

or subscribe and save

20%
CBD Pain Relief
Our award winning creams are great for the relief of aches and pains from sore muscles and joints. You can find out more about how CBD interacts with pain and inflammation by reading our CBD Pain and Inflammation Guide.
With HempWell you can buy CBD topicals with confidence – we don't test on animals and only use the highest quality ingredients.
£

49.99

—

or subscribe and save

20%
CBD Skin Care
We have a range of great CBD skin care products to help you love your skin. You can find out how CBD interacts with your skin by reading our CBD Skin Care Guide.
CBD Massage Oils
Unwind with a relaxing massage using CBD massage oil. Designed to leave skin feeling soft and moisturised, with a carefully selected combination of essential oils for a relaxing aromatherapy experience.
CBD Bath Bombs
Our luxurious Spa Range now includes these indulgent CBD bath bombs. A soak in the bath can aid rest, elevate mood, help focus and provide self care. Add in cannabidiol (CBD) to release your ultimate relaxation potential.
CBD Home Fragrance
We have four luxurious CBD candles with many more products under development so please keep checking back. Presented in a glass container with lid, they make a stylish gift or beautiful addition to any home.
CBD Patches
Patches provide fast and effective delivery of medicine outside the digestive process providing undiluted absorption of cannabinoids into the bloodstream. Patches provide accurate dosages, and larger quantities of available cannabinoids for delivery with no added chemicals.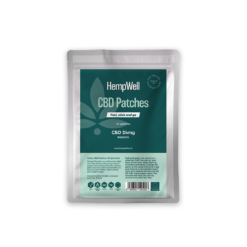 Out of stock
£

34.99

—

or subscribe and save

20%
CBD Edibles
Our delicious gummies come in 3 flavours, lemon, lime and strawberry. These vegan friendly, sugar-coated, chewy, fruity, sweet and juicy gummies contain Broad Spectrum CBD and are a fun way to get your daily dose.
CBD Chocolate Truffles
As we are based out of York, the home of Chocolate in the UK, it was only right that we developed the most delicious way to take CBD – our succulent and smooth CBD chocolate truffles. Words just can't describe how good these are. All our chocolates are hand made and contain 20mg of CBD. If you are in York then pop into our shop and try one for free, it will make your day!
£

12.99

—

or subscribe and save

20%
CBD Tea and Coffee
You can now purchase CBD tea and CBD coffee straight from our online CBD shop! Elevate your daily ritual with our premium selection, expertly crafted to bring you the perfect balance of calming CBD and rich, aromatic flavors. Unwind with each sip as the natural benefits of CBD seamlessly integrate into your routine, promoting a sense of tranquility and focus.
Gift Hampers
Give the gift of CBD with one of Hemp Well's Gift Hampers. You'll know your loved ones are getting premium, organically grown CBD products. Beautifully wrapped with a variety of options to suit the lucky recipient.
Shop All CBD