Huttons Menopause Support Capsules – 750mg CBD
£34.99 — or subscribe and save 20%
Huttons 750mg CBD Capsules | 25mg Per Gel Capsule
30 soft gel, pure CBD (25mg) capsules.
These capsules are travel friendly and quick to take. Perfect for on-the-go and popular with our customers. With 25 mg of our own CBD in each, they can be taken at a time to suit you..
CBD Capsules Per Bottle | 30
CBD Per Capsule | 25mg
Total CBD Per Bottle | 750mg
Consult with a health professional before use if pregnant, breastfeeding or taking medication.
Please note: The minimum term for monthly subscription purchase plans is 3 months (6 months for bi-monthly subscriptions).
Description
Huttons 750mg Menopause Support Capsules
Made from organically grown EU certified hemp plants and extracted in Europe, our quality CBD is fully compliant under the current EU regulations for CBD products. Our products are third-party tested to ensure consistency and quality.
OUR CBD IS: 0% THC | NON-GMO | MADE IN EUROPE | PESTICIDE FREE | HEAVY METALS FREE | LABORATORY TESTED | VEGAN | ANALYSIS AVAILABLE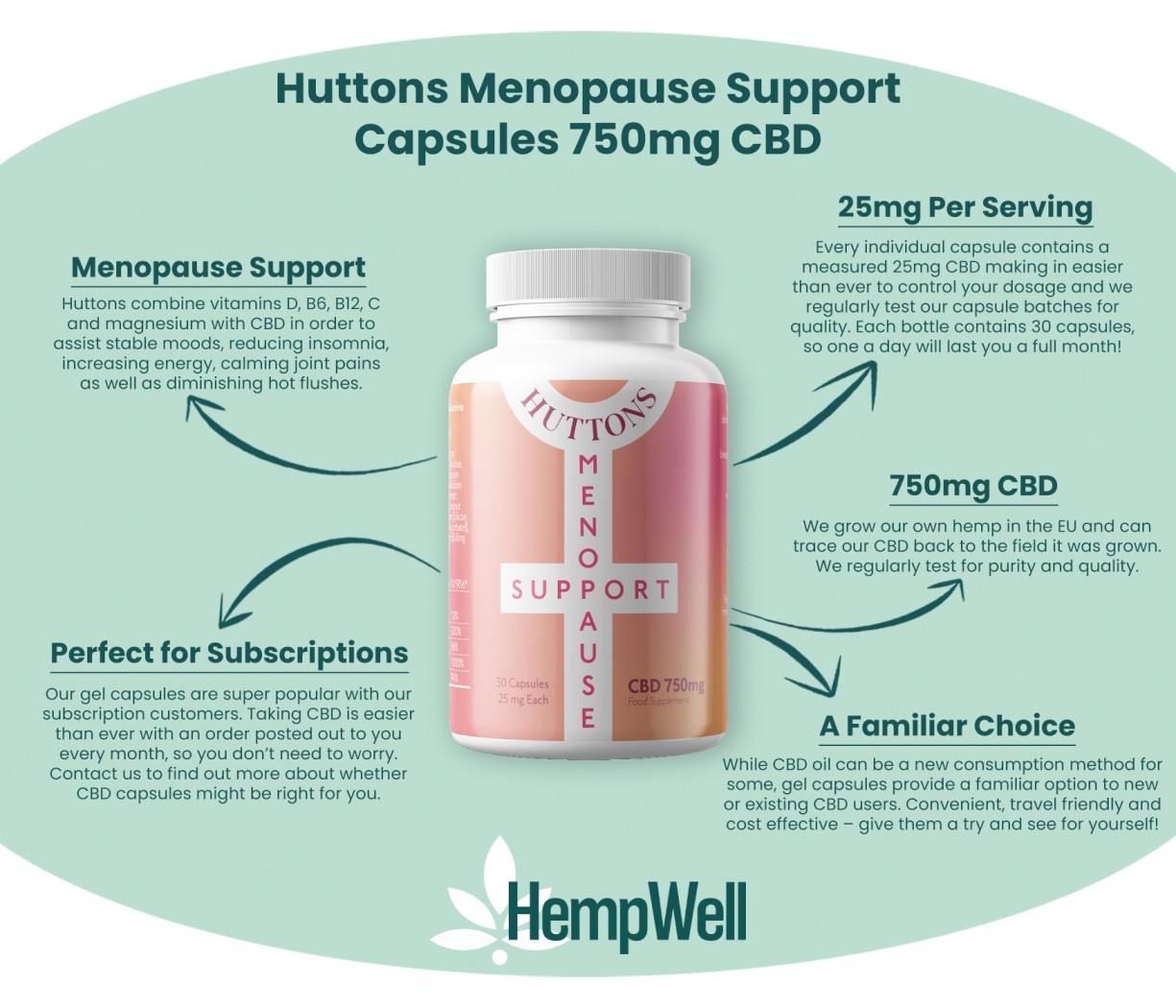 Ingredients:
Cannabidiol (CBD) Powder [Bulking Agent (Calcium Phosphates), Cannabis Sativa L. Oil Extract, MCT Cocos Nucifera Oil, Anti-Caking Agents (Microcrystalline Cellulose, Magnesium Salts of Fatty Acids, Silicon Dioxide, Dicalcium Phosphate0], Magnesium (as Magnesium Bisglycinate), Capsule Shell (Hydroxypropyl Methylcellulose HPMC), Vitamin C (as Ascorbic Acid), Vitamin D3 Extract [Corn Syrup, Stabiliser (Gum Arabic), Fractionated Coconut Oil, Vitamin D3 (as Cholecalciferol), Anti-Caking Agent (Silicon Dioxide), Antioxidants (Alpha-Tocopherol, Sodium Ascorbate)], Vitamin B6 (as Pyridoxine HCL), Vitamin B12 Powder [Bulking Agent (Mannitol), Vitamin B12 (as Methylcobalamin)]
Directions For Use:
Take 1 capsule a day.
Nutritional Information:
Typical Values
1 average capsule provides
%RI*
Magnesium Bisgylcinate

(Element Magnesium)

220mg

44mg

12%

Vitamin D
15µg
300%
Vitamin B6
1.2mg
86%
Vitamin B12
25µg
1000%
Vitamin C
75mg
94%
Cannabidiol (CBD)
25mg
*Reference Intake
Storage:
Store this product in a cool, dry place. Keep out of direct sunlight. Keep out of sight and reach of children
Product Disclaimer:
Food Standards Agency max recommended daily dose 70mg. Do not exceed recommended daily dose.
This food supplement should be taken as part of a varied diet and healthy lifestyle.
Consult with a health professional before use if pregnant, breastfeeding or taking medication.
This product is not intended as a medicine.
Hassle-free CBD Dosing
Don't want to fuss over your CBD routine? Try our CBD capsules which are a perfect way to get your CBD dose in an easy form. Each capsule is accurately filled to give you control of your wellness. Convenient, travel friendly and cost effective – give them a try and see for yourself!
Related products