HempWell AT YORK Designer Outlet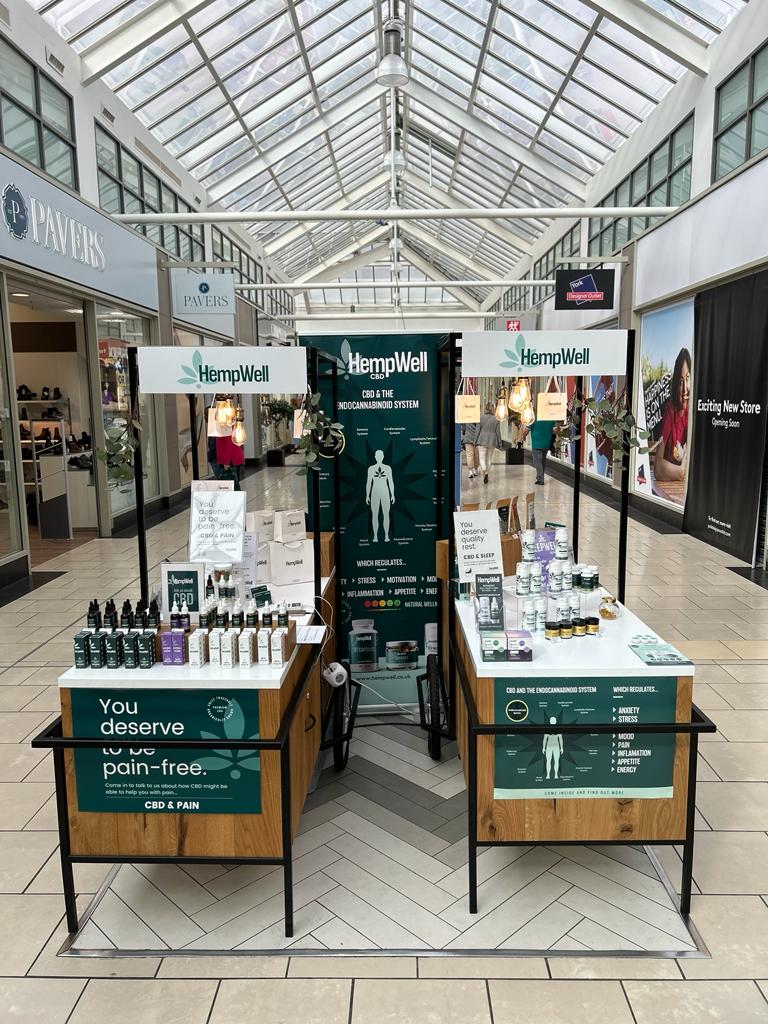 About HempWell AT york Designer Outlet MAll
Our most recent retail store is a kiosk in the McArthur Glen Designer Outlet in York. The heart of designer & high street fashion brands and homeware, the York Designer Outlet makes the perfect shopping day out! And while you're here, why not check out our HempWell kiosk, a small but cosy CBD area where you can try free samples, chat to one of our friendly and knowledgeable CBD experts, and choose the perfect CBD product for you.
At our York Designer Outlet cart you can find fantastic products such as our 1500mg Gel Capsules or our delicious CBD Gummies. The best way to view out our extensive range of CBD oils in different flavours and strengths is to come and visit us in person. You won't find a better selection of CBD oils in York anywhere else! At Hemp Well Designer Outlet both of our seed-to-shelf CBD oil ranges, Pure CBD and Broad Spectrum CBD are available.
Chatting to us is also a great way to learn more about CBD and how to find the right product. Our helpful staff are always able to answer any questions and support you.
YORKSHIRE-BASED CBD
Hemp Well is a proud Yorkshire based CBD company and we produce all our products right here. Our Designer Outlet CBD shop is supplied by our Hemp Well Offices, found in the York Science Park – an annex of York University. It's important to us that our products are traceable and we take pride in our seed-to-shelf process. We are confident we have the best CBD products in Yorkshire!
We also partner with some local businesses to help stock the best Yorkshire CBD Shop with the best Yorkshire made products. Our CBD Bath Bombs and CBD Chocolate Truffles are made by our trusted Yorkshire partners using our very own CBD oil. You can find Hemp Well CBD in health food shops around Yorkshire such as in Malton or Pocklington. If you're a retailer and you'd like to stock Hemp Well and offer your customers quality, traceable Yorkshire made CBD Oils, Gummies, Capsules and more please get in touch.
We are pleased to announce that our Designer Outlet cart will be opening on the following dates in 2023:
Saturday 8th July
Sunday 9th July
Saturday 15th July
Sunday 16th July
Saturday 23rd September
Sunday 24th September
Wednesday 1st November
Thursday 2nd November
We can't wait to meet you!