We are very fortunate to be on the ground having first-hand conversations with customers in our retail shop. Thanks to these in-person conversations with so many of our loyal customers, we know that many of them are taking CBD to help manage their arthritic symptoms. Today is World Arthritis Day and we wanted to write a comprehensive guide to taking CBD for arthritis.
Firstly, what is arthritis?
Arthritis is an inflammation of the joints or tendons, which can cause pain and stiffness.
How can CBD help?
It is well known that Cannabinoids are potent anti-inflammatory agents (Source) and therefore could provide real benefits to help relieve inflammation, swelling and pain commonly associated with arthritis.

Arthritis.org say: 'Animal studies have suggested that CBD has pain-relieving and anti-inflammatory properties, but these effects have not been validated in quality studies in humans. Anecdotally, some people with arthritis who have tried CBD, but not all, report noticeable pain relief, sleep improvement and/or anxiety reduction.'

In 2016 a study on rats showed that both pain and inflammation of arthritis was significantly reduced by CBD and in 2018, this study on the treatment of osteoarthritis in dogs demonstrated that CBD resulted in a significant decrease in pain, and increase in activity in the dogs tested. Unfortunately, due to restrictions on Cannabis in human trials there isn't a large amount of data yet. However, there are over 30 clinical trials being undertaken in Europe now for a range of conditions, so we hope there will be results from research into CBD for arthritis in human patients soon.
Some people believe CBD to be an effective pain reliever as the research on CBD products and pain management has been promising. Human studies on CBD and pain are lacking, due to restrictions on the use of and research on cannabis, and more research is needed in this area, but the studies we do have show some encouraging results.  In the first human experimental pain study on CBD, the research showed that CBD has real pain-relieving properties in humans.
The authors of the study expected it to show that the anecdotal pain-relieving effects of CBD that are reported are from people experiencing the placebo effect. However, the researchers found that CBD had real pharmacological effects resulting in pain relief. The lead researcher Martin De Vita said: "we found improvements in pain measures caused by the pharmacological effects of CBD (…) it was pretty remarkable and surprising" (Source)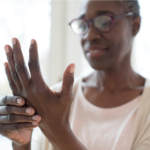 How to proceed?
While there are no established clinical guidelines, the medical experts consulted by the Arthritis Foundation recommends the following for adults:
When preparing to take a liquid form, be aware that the CBD extract is mixed with a carrier oil, so there are two measures to know: the amount of the liquid product to take (the dose) and the amount of CBD in each dose.
Go low and slow. Start with just a few milligrams of CBD in sublingual form twice a day. If relief is inadequate after one week, increase the dose by that same amount. If needed, go up in small increments over several weeks. If you find relief, continue taking that dose twice daily to maintain a stable level of CBD in the blood.
After several weeks, if you don't find relief with CBD then CBD may not be right for you.
If you experience any unwanted side effects when using a CBD product, immediately discontinue use and inform your doctor.
CBD is thought to have the potential to interact with some drugs commonly taken by people with arthritis. Talk to your doctor before trying CBD if you take medications with a grapefruit warning. CBD is not a substitute for disease-modifying treatment for inflammatory arthritis.
Finally, there are more than 100 types of arthritis, and while pain is a feature of all of them, these conditions do not all act alike. So please bear in mind that what works for one may not work for another. Most types of arthritis are not cured by other treatments, and CBD is considered a less addictive option than opiates so it's understandable that so many people are keen to give it a try.
What should I buy?
Hemp Well have a substantial range of CBD products which could be worth trying for those looking to manage pain. Using CBD in a cream presentation is a wonderfully soothing way to treat your symptoms. These can be gently massaged into the skin to work the CBD oil right into where it is needed.
The pain relieving and anti-inflammatory action of CBD soon gets to work on your symptoms- additionally the massaging actions helps circulation to help promote healing. Alternatively, CBD drops are one of the most popular ways to take your daily supplement of CBD oil. Available in a range of potency from 500mg up to 4000mg of CBD per bottle.
These are supplied in a glass bottle with a pipette fitted into the lid to make measuring and taking the dose easy. Most people simply drop the oil under their tongue; however, these drops can be added to smoothies, post-workout protein shakes, or even pop them in your night time cocoa.
We recommend starting out with a moderate dose of oral CBD such as this one, or starting with our max strength muscle and joint cream if you prefer to use a topical treatment.
Remember, we are happy to advise you over the phone by calling 08007720508 or visiting us in store if you have any questions!